Alsepali
Multifunctional Fruit Vegetable Sterilizing Machine
 SAFELY STERILIZE AND CLEAN FRUITS AND VEGETABLES! 
The Multifunctional Fruit Vegetable Sterilizing Machine can effectively clean fruits and vegetables, and efficiently remove harmful substances and residues bringing convenience and healthy to you and your family!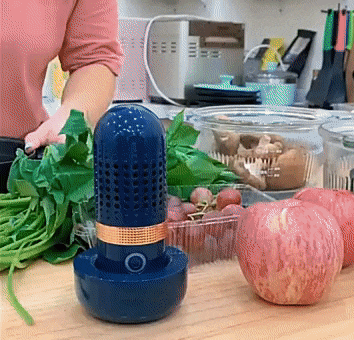 The first step to taking care of your family's health is to start with proper cleaning methods, and our Multifunctional Fruit Vegetable Sterilizing Machine is a perfect choice. It removes residues on the surface of vegetables and fruits with a 99.9% sterilization rate and a 90% removal rate of pesticide residues. Safer and healthier!
FEATURES AND BENEFITS
HEALTHY & SAFE: Adopting high-energy OH-ion purification technology, it quickly degrades harmful substances by using water as raw material. It has no chemical additives, does not damage food nutrition, and prolongs the storage time for better preservation. A healthier way to take care of the family's nutrition!
WATERPROOF & EASY TO CLEAN: It has a waterproof rating of IPX7 with no water leakage, and is very easy to clean, the top shell cover can be removed for deep cleaning after each use. Can be used with tap water, filtered water, and any other water quality. 
SIMPLE TO USE: Press the power button and place the capsule in a 3-5L capacity of water, add fruits, veggies, meat, or any food. Wait for 10 minutes while high-energy ion purification takes place.
RECHARGEABLE 4400mAh BATTERY: The USB wireless charging design can be used 25 times when fully charged.
USAGE: Widely used for cleaning tableware, fruits and vegetables, kitchen utensils, bottles, rice, fish, meat, seafood, jewelry, and purifying tap water.
SMALL & PORTABLE: It is palm-sized and easy to store. Suitable for personal essential items or family dormitory travel. It can be tucked in the side of the suitcase when traveling on business trips, camping in the RV, or on outdoor travel.
SPECIFICATIONS
Color: Dark Blue
Material: ABS
Size: 6.3 x 3.5 x 3.58inch
Weight: 500g
PACKAGE INCLUDES
1 x Multifunctional Fruit Vegetable Sterilizing Machine
1 x Charging Base