Alsepali
Kinscoter Aroma Diffuser
RELAX THE MOOD AND RELIEVE STRESS

Perfect for ultrasonic aromatherapy the flame diffuser collects light and mist to create a realistic flame effect. Add 3-5 drops of your favorite essential oils to relieve fatigue, moisturize your skin, reduce stress, create the perfect environment for you to relax and enjoy life.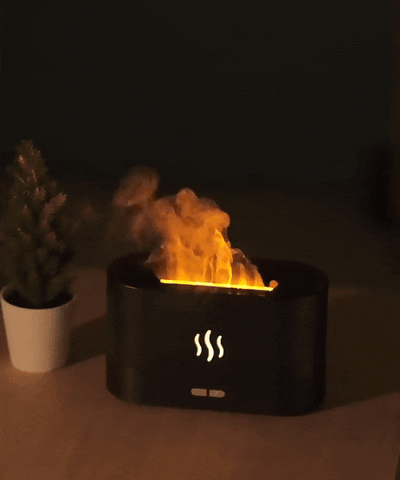 No humming, whistling, or crackling, even quieter than a whisper. Remote control no need to get up and walk around so you can put it in your bedroom or your baby's room without worrying about disturbing his sleep. It's a good companion for bedroom or baby rooms.
FEATURES:
Ultra-quiet Operation - About 30dB, the silent partner around you, don't worry about it affecting your work, study or sleep.
Fine Mists - Ultrasonic humidification enhances the atomization effect and effectively improves the air quality where you are. It can be used to eliminate odors, purify the air, increase humidity, etc.
Automatic Power-off Protection - Automatic power-off when there is no water, it can operate for about 8 hours when filled with water.
SPECIFICATIONS:
Water tank capacity: 180ml
Rated input: DC 5.0V/2.0A
Operating current: ≤900mA
Rated power: ≤4.5W
Spray volume: 15-20ml/h
Size: 171 x 75 x 101mm
Material: ABS/PP/electronic components
Color: Black, White
PACKAGE INCLUDES:
1 - Aroma Diffuser
1 - Instructions for Use
1 - USB Line